NEW! MINIATURES
formerly OVATION FRAMING / GLOBAL MINIATURES
...Now by Winning Edge!
Ovation Framing, formerly known as Global Miniatures, was founded in 1996. Ovation Framing closed its doors and operations at the end of 2018, and Winning Edge, Inc is now the sole authorized manufacturer of Ovation/Global Miniature products. Winning Edge, Inc. MINIATURES are hand-painted work of arts, framed in high quality molding, premium mats and under musuem quality glass. The result is a little "treasure"- a highly customized gift that will be cherished by recipients for years to come.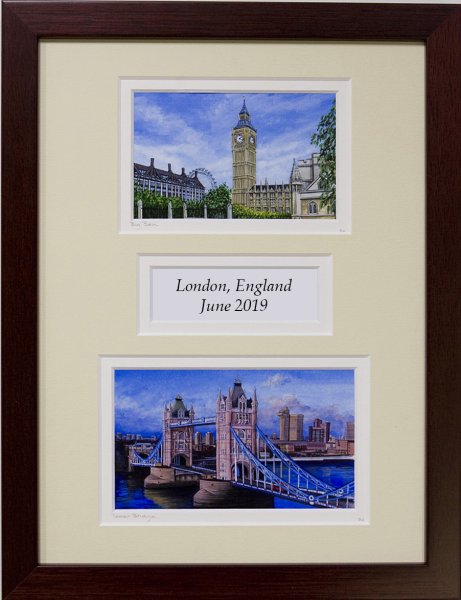 What Is a Framed Miniature?
Iconic images are sourced specifically for your event, whether it be an exotic destination, famous hotel or resort, park or any special place or destination. That image is then meticuously hand-painted by artists into an original painting as small as 1.5" x 1.5" (about the size of a postage stamp!) Once the final painting is approved, the original is scanned and hi-resolution photo prints are created for framing. When framed and finished, "Minature" framed gifts are as small as 5" x 5" (larger size options and multiple framed images are available). Prints are hand penciled, signed and numbered upon request. These miniature frames are perfect for events and travel as they are small, light, pack easily and travel safely in luggage or carryons. Unlike other destination gifts that might wear out over time (clothing, towels, bags) or become obsolete (electronics), framed miniatures are truly individual pieces of art that can be displayed at home or in the office and appreciated for a lifetime!
Quality and Craftsmanship
Our artists can create a custom painting of any image. We convert original watercolor paintings into super-hi-resolution photo-prints. Every framed piece is hand crafted and assembled with high quality, "Made in the USA" materials. We print, cut, mat, pencil, glaze, tape, frame and package each and every piece in the USA, right here in our factory in Minneapolis.
What types of events are Miniatures used for?
• Travel Destination: Perfect for a destination event, our artist can paint the beach resort, hotel, and iconic landmarks of the destination city or country.
• New Construction: Whether you are in the construction industry, or are about to open a brand new headquarters, we can help you commemorate the opening with a customized framed print to hand out to all those who helped make it possible. Why not consider a series of images charting the historical progress of the company leading up to the new construction? Or go for something special with a die cut insert on the matting, or a letter from the president with some custom copy on the back of the frame? However unique your building project, we have a miniature to complement it.
• Donor Gifts: Charities and other organizations, such as hospitals, churches and the Arts, rely on the generosity of others so that they can continue their work. When a charity reaches a vital goal, or completes some groundbreaking work, a miniature could be the perfect way for them to show their donors how much their generosity is appreciated. A custom piece of art is a unique dedication to the amazing work that donations help to fund and, hung on a wall or stood on a desk, is invalueable as a gentle reminder to keep giving.
• Commemorative Gifts: This particular application of our product can cover many different subjects for painting, all with the common goal of saying thank you to associates, partners and customers who have contributed above and beyond. Other applications include commemorating product launches, holiday events and self-promotion.
• Schools/Universities: We have been working with educational establishments for many years now, producing artwork of everything from historic campus landmarks to brand new building developments and university mascots. So whether you are celebrating a long standing tradition, or looking to celebrate the opening of a state-of-the-art facility, we have the experience to know just how to deliver a final product that says exactly what you want about your school or university.
• Golf: We have created customized gifts for everything from large sponsors of international events, to independent golf clubs wanting something special to thank their long standing members, or to use at Member-Guest events. Our artists are well practiced at catching the subtleties of individual golf holes or capturing the feel of a club house, so you can rest assured you will be delighted with your finished order.
• Sport: Our sports catalog has covered everything from motorsport, to the NFL, to baseball. Our artists have painted
some of the biggest names in sport, and matted prints are often sent off to be signed by the sporting celebrity portrayed before being framed. Stadiums, trophies and other sports related subjects can be captured in miniature to help celebrate championships or to thank sponsors, with the option of foiling or inserting team or sponsor logos in the matting for a truly custom piece.
Let's Get Started!
Tell us –
1) What image(s) you would like included (you can supply images or we can source them);
2) About the event, project, client, and recipients (any background information on the event, client can be extremely helpful);
3) The critical date – the date and place the gift products have to be delivered;
and, last but not least,
4) the budget.
We'll do the rest. Free Renderings and Presentations will be provided to help sell the project to your client.*
*initial quotes and presentations use photographs, paintings not initiated until Purchase Order
Call Winning Edge, Inc. now to order or inquire about our Miniatures!
1-866-231-9600