NEW! MINIATURES
formerly OVATION FRAMING / GLOBAL MINIATURES


Now by Winning Edge!
Ovation Framing, formerly known as Global Miniatures, was founded in 1996. Ovation Framing closed its doors and operations at the end of 2018, and Winning Edge, Inc is now the sole authorized manufacturer of Ovation products. The core product is a premium framed "miniature" hand-painted work of art, framed in high quality molding, premium mats and under musuem quality glass. The result is a little "treasure"- a highly customized gift that will be cherished by recipients for years to come.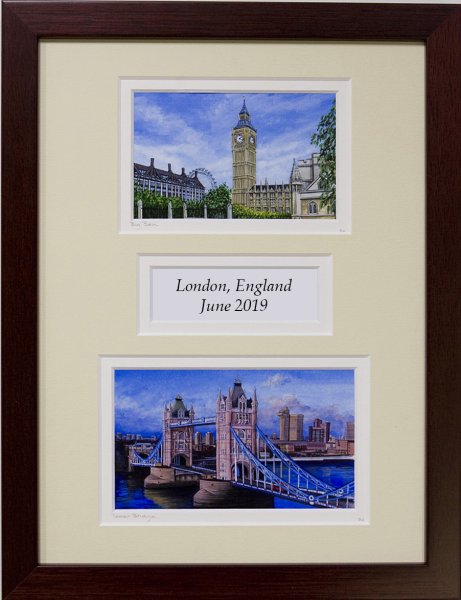 What Is a Framed Miniature?
Iconic images are sourced specifically for your event, whether it be an exotic destination, famous hotel or resort, park or any special place or destination. That image is then meticuously hand-painted by artists into an original painting as small as 1.5" x 1.5" (about the size of a postage stamp!) Once the final painting is approved, the original is scanned and hi-resolution photo prints are created for framing. When framed and finished, "Minature" framed gifts are as small as 5" x 5" (larger size options and multiple framed images are available). Prints are hand penciled, signed and numbered upon request. These miniature frames are perfect for events and travel as they are small, light, pack easily and travel safely in luggage or carryons. Unlike other destination gifts that might wear out over time (clothing, towels, bags) or become obsolete (electronics), framed miniatures are truly individual pieces of art that can be displayed at home or in the office and appreciated for a lifetime!
Quality and Craftsmanship
Our artists can create a custom painting of any image. We convert original watercolor paintings into super-hi-resolution photo-prints. Every framed piece is hand crafted and assembled with high quality, "Made in the USA" materials. We print, cut, mat, pencil, glaze, tape, frame and package each and every piece in the USA, right here in our factory in Minneapolis.
Let's Get Started!
Tell us –
1) What image(s) you would like included,
2) About the event, project, client, and recipients (any background information on the event, client can be extremely helpful)
3) The critical date – the date and place the gift products have to be delivered;
and, last but not least,
4) the budget.
We'll do the rest. Free Renderings and Presentations will be provided to help sell the project to your client.*
*initial quotes and presentations use photographs, paintings not initiated until Purchase Order
Call Winning Edge, Inc. now to order or inquire about our Miniatures!
1-866-231-9600